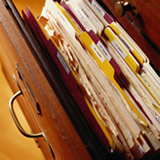 Tips, Titles, and Impact Factor
Writing Quotes
JSCC Faculty, Jackson State Community College
Quotes from famous authors provide inspiration for how to get writing done.
Master Journal List
Thomson Reuters
Comprehensive list of journal titles, and how they are selected.
The History and Meaning of the Journal Impact Factor
Garfield, E. (2006). JAMA
Notion of the journal impact factor arose in 1955, followed by publication of the Science Citation Index in 1961.
Higher Education Conferences Worldwide
Conference Alerts, Academic Conference Worldwide
Site lists conferences in all disciplines.
How to Network at a Conference
wikiHow
Article describes strategies for connecting with others at a conference.
Maintaining a Writing Portfolio
---
Write continuously
Veteran faculty members who are prolific researchers and get the word out on their findings are always writing. Talk with published authors in any field and they will tell you that they schedule time to write, and then sit down and do it, rather than waiting for inspiration. The same is true for faculty members who manage to keep up with their research writing. New faculty members need to set aside dedicated time to write up what they are learning. It might be early thinking, or in process data, but many writers say the act of writing is actually a way of thinking through what they have learned. Writers write, and faculty members who are successful are writing on a regular basis in time set aside for the practice.
Find a writing partner
The writing process benefits from a critical friend. It is helpful for new faculty members to choose someone's writing they admire, either from the same field or a different field of study. By asking them to provide feedback, and offering to do the same for them, it is possible to set up a regular sounding board. This sort of non-threatening feedback helps to focus and clarify early writing before submitting it for publication. It also holds critical friends accountable for completing pieces in order to have work to share.
Identify target venues to go public
One way to focus research writing is to have in mind a target audience. It is important to use guidelines provided by journals, found in calls for proposals for conferences, and provided by other sorts of "publishing" venues to format and focus research writing. New faculty members should become familiar with the tone of the publications or gatherings in which they hope to go public with their work, and match it as they are writing. The choice of audience may eventually change, but the early guidance pushes forward the writing process.
Set up a series of writing folders
A practical way to be sure to always have several pieces in a writing pipeline is to create a file folder for each project or publishing topic. In this way, when weekly writing time arrives, new faculty members can expedite the writing process by just picking up one of the folders and working on some aspect of writing. The folders also become a container for collecting ideas, related articles, insights and a place to track progress.
Possible questions to ask about Maintaining a Writing Portfolio:
top of page