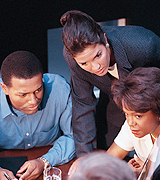 Active Listening, Openness and Asking Good Questions
Mentor Training: Active Listening Skills
YouTube
iVideo excerpt of a larger mentoring skill DVD for purchase.
Full Human Presence: A Guidepost to Mentoring Undergraduate Science Students
Coppola, B. (Spring, 2001). New Directions for Teaching and Learning, Jossey-Bass
Strategic approaches to mentoring undergraduate students within a holistic framework of personal and professional development. A concept of a coordinated mentoring effort across years and disciplines is described.
Graduate Student Mentoring: Be More Than an Advisor
The Graduate School, Penn State
A philosophical statement about mentoring.
Mentoring New Faculty in Higher Education
Gaskin, L.P., Lumpkin, A. & Tennant, L.K. (2003). Journal of Physical Education, Recreation and Dance.
Explores the history of mentoring back to Odysseus, defines the practice, and emphasizes the responsibility of faculty to mentor those who come behind them.
Faculty Mentoring
Office of Faculty and Organizational Development, Michigan State University
Resources about faculty mentoring at MSU, addressed by academic area, gender, ethnicity, and using technology.
Student Chapter Faculty Advisor Manual
Institute of Transportation Engineers (October, 2009)
An example of issues faculty advisors need to address such as roles and responsibilities, forming a new chapter, chapter promotion, fundraising, and chapter activities.
Advisor / Mentor
---
Purpose of mentoring
The nature of mentoring varies depending upon who the mentors / mentees are, what the context for mentoring is, and the relative levels of expertise of the partners. Generally the purpose is to have the person with more expertise share their knowledge and skills with a more novice partner. Mentors should expect to provide an effective support system that guides the novice toward success and effectiveness as a professional. Evidence indicates that novice faculty members, and students from undergraduates through doctoral programs benefit from mentoring as they develop.
Mentoring skills / strategies
Mentoring relationships vary widely, but generally address four aspects of the partnership: establishing a positive relationship, helping novices learn necessary skills to navigate as professionals, locating supports for the novice, and increasing the quality of social and cultural interactions of the mentee with others. Mentoring is not simply answering questions and giving advice, it requires a unique set of skills and practice that involve active listening, openness, and constructive feedback.
Mentoring novice student researchers
One of the responsibilities of faculty members is to mentor young researchers. This can be one of the most rewarding aspects of academic life. It may entail introducing an undergraduate to research, serving on Master's or Ph.D. committees, traveling to local high schools to talk about research to future college students, or collaborating with novice colleagues. Many faculty members describe the mentoring experience as a reciprocally enriching one. Each mentoring partnership may offer an opportunity to co-publish. This practice both establishes a publication record for the mentee, and provides an opportunity for new faculty members to add their voice to the dialogue in the field. This apprenticeship model is a core element of support for young researchers as they enter the research community.
Mentoring novice faculty members
One indication that you are no longer the novice is the moment that others come to you for advice and wisdom. The tradition of veterans mentoring novices is integral to life in the academy. If you are a new faculty member, seek out a mentor. If you have been in the profession a number of years, seek opportunities to mentor your colleagues. Some campuses have formal mentoring programs, others depend upon the initiative of individuals to form mentoring partnerships. There is evidence that faculty members who seek out and use mentors effectively are more successful than those who try to navigate the process alone. You may want different mentors for different purposes, for example one for asking about research issues, another as a resource for teaching questions, and still another just to talk with from a different discipline for another perspective.
Advising clubs / student organizations
Most student organizations on college campuses require a faculty advisor, and this outside of the classroom work with students can be extremely rewarding. Although students are responsible for the day to day work of the club or organization, the faculty member provides much needed guidance for navigating the policies and practices of the campus and making certain that activities of the organization are appropriate. While a student or group of students may approach a faculty member about being a sponsor, it is just as likely that a faculty member will see a need and approach students about forming a group with like minded purposes and goals.
Possible questions to ask about Mentoring / Advising:
top of page