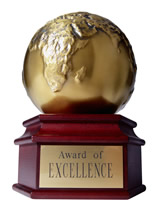 Standards, Images and Strategies
National Board for Professional Teaching Standards (NBPTS)
Site offers history of services offered by NBPTS.
Reflections on What Makes a Good Teacher
Reflections from faculty who have received a Carnegie Foundation Professor of the Year Award.
Teaching Groups: An Emerging Practice
Schmidt, B. (2008). Brigham Young University at Idaho
Groups of faculty meet regularly to discuss, improve, and reflect on their teaching.
YouTubeEDU
Youtube website
This rapidly evolving site now includes a "channel" with content from top universities.
Physics: Classical Mechanics
Lewin, W. MIT. YouTube Edu, A death-defying wrecking ball trick.
CSU Faculty Development Centers
California State University
Centers offer professional development opportunities.
Accomplished Teaching
---
How graduate students become professors
Graduate students are often prepared to become professors by becoming experts in their field of study, and by serving as teaching assistants (TAs). Some campuses offer TA seminars in instruction, but seldom is there more than an overview of teaching strategies provided. As a result new faculty may teach by emulating a favorite professor from their past, crafting lessons the way they wish they had been taught, or stumbling through a process of trying one thing and then another. It would be helpful if there were some standards or guidelines that describe what constitutes good teaching. New faculty members have much to learn from reflecting on effective classrooms and making some sense of how learning is occurring.
Characteristics of accomplished teaching
Teaching has been studied and written about extensively, and takes many forms and styles. The National Board for Professional Teaching Standards has attempted to set standards of accomplished teaching. The standards arose from a desire to professionalize the practice of K-12 teachers. The resulting core propositions are helpful as we begin the discussion about accomplished teaching in higher education. New faculty members should also take advantage of the principles of practice offered in faculty development workshops and seminars by teaching and learning centers at many universities. Look for opportunities to reflect on and improve your teaching throughout your career in order to be the most effective instructor possible.
Look to outstanding professors
As students we have all run across a handful of teachers or professors that really connected with us as learners. They may stand out due to a passion about the subject matter, or an engaging teaching style, or high expectations of student performance, or other qualities. Ask a university professor why they went into teaching, and many will tell you it was an outstanding professor that inspired them. We can learn a tremendous amount about accomplished teaching by observing outstanding faculty, or asking award winning professors to offer up some genuine insights into their practice.
Images of teachers
Teachers at all levels of schooling have been portrayed in films. There are archives of classroom footage of both famous and lesser known instructors. As we watch these images we might ask the questions, "Is this good teaching? Why or why not?" Through this examination we can begin to tease out the qualities that draw us and our students into learning, and those that do not. Teaching images demonstrate the complexity of roles, the gray areas of practice, and the impact of high expectations for student achievement. Thinking about and discussing the attributes of these shared images offers a framework for developing our own teaching style.

Reflecting on student learning outcomes
One way to begin evaluating our own teaching practice is by reflecting how well our students meet student learning outcomes we have set for them. There are many ways to go about this self-study, action research, or practitioner inquiry process. The basic premise behind self reflection is that the way we teach is connected to how students learn, and therefore by analyzing student learning data we can map backwards to adjust our teaching to enhance student learning.
Possible questions to ask about Accomplished Teaching:
top of page